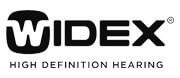 With representation in over 100 countries worldwide, Widex is among the largest hearing aid manufacturers in the world. Subsidiaries in locations such as Denmark, Australia, Canada, China, France, USA and United Kingdom employ over 3000 workers worldwide. Widex broad scope of operations includes audiological research and development, and production.
The following are some Widex Hearing Aids which Hearing Institute of Ontario offers:
Schedule a Free,
No-Obligation

Hearing Test and Consultation*
*Ontario residents only. See our testing policy here.
Schedule Consultation Form
"*" indicates required fields