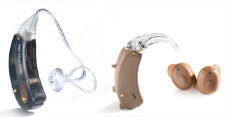 Manufacturer: Widex
Website: http://www.widex.ca
Styles: Behind the Ear (BTE), In the Ear (ITE), Completely-In-Canal (CIC)
Senso+
Senso+ hearing aids are fully automatic and 100% digital. The user does not have to make any adjustments themselves to obtain good sound and speech reproduction.

Senso Diva
Senso Diva is a 100% digital, fully automatic hearing aid, which continuously adjust to the user's listening environment. It employs proven Widex state-of-the-art technology, in combination with the most comfortable and discreet design, so that it easily fits in with your active life.

Senso P (P38)
The signal processing is not quite as refined as in the Senso+ series, and the price of a Senso P hearing aid is correspondingly lower.

Senso Vita (SV38)
Senso Vita is a hearing aid solution that puts the user in focus by being adaptable to individual requirements.
Schedule a Free,
No-Obligation

Hearing Test and Consultation*
*Ontario residents only. See our testing policy here.
Schedule Consultation Form
"*" indicates required fields