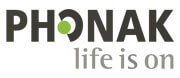 The goal of Phonak is to improve the quality of life of people with hearing loss. With over 60 years of experience, Phonak is an innovative force in hearing acoustics. Driven by a passion to provide better hearing for people who experience loss, and an exceptional pioneering spirit, Phonak now has an international reputation for providing hearing aids with leading technology.
The following are some Phonak Hearing Aids which Hearing Institute of Ontario offers:
Schedule a Free,
No-Obligation

Hearing Test and Consultation*
*Ontario residents only. See our testing policy here.
Schedule Consultation Form
"*" indicates required fields