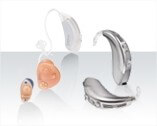 YuuTM is a premium, interactive hearing instrument that automatically adapts to your hearing needs. Yuu automatically adjusts to provide exceptional sound quality and improved ease of listening, with no need for manual program changes.

With Comfort-Clarity Balance, Yuu allows you to adjust your hearing aid for audibility of speech for challenging listening situations or adjust it to provide increased comfort in noisy situations. When you make adjustments, Yuu gradually learns your listening preferences in different listening situations.

Yuu is available in a range of styles and colors.
Schedule a Free,
No-Obligation

Hearing Test and Consultation*
*Ontario residents only. See our testing policy here.
Schedule Consultation Form
"*" indicates required fields