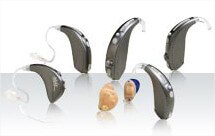 The UnisonTM series of hearing instruments gives you the choice of three unique models, each offering the advantages of a high-quality digital hearing instrument.

Unison 6 is best suited to a more active lifestyle.

Unison 3 is the ideal choice if you're exposed to fewer listening environments.

Choose Unison Essential if you are concerned about budget and/or are making the transition from an analog to a digital instrument.
Schedule a
No-Cost

,

No-Obligation

Consultation*
*Ontario residents only. See our testing policy here.
Schedule Consultation Form
"*" indicates required fields