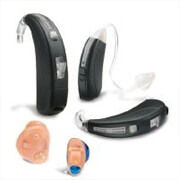 Choosing a hearing instrument that fits within your price range shouldn't mean missing out on features that will help you hear the best that you can.

ShineTM is an affordable hearing instrument like no other, delivering the natural sound, comfortable listening and better speech clarity not typically seen at the essential level. That's because Shine is about more than providing great value; it's about providing a hearing instrument that is absolutely invaluable.

Astonishingly effective, surprisingly affordable
Shine is the only hearing instrument in its class to offer a trio of high-performance features typically reserved for more expensive products.

Proven to help
Shine's TriVantage features have been proven, time and again, to increase listening comfort and hearing success.
Hear speech more clearly with speech enhancement LD
Experience increased listening comfort with AntiShockTM
Improve speech understanding in noisy environments with adaptive directional microphones
The broadest choice, the most flexibility
With Shine you get a wide range of shell styles, making it the perfect choice for most hearing losses, including those requiring more power
Schedule a Free,
No-Obligation

Hearing Test and Consultation*
*Ontario residents only. See our testing policy here.
Schedule Consultation Form
"*" indicates required fields