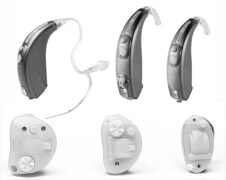 Manufacturer: Unitron
Website: http://www.unitron.ca
Styles: Behind the Ear (BTE), In the Ear (ITE), Completely-In-Canal (CIC), In-The-Canal (ITC), Half-Shell (HS)
The Unitron Conversa Features:
Speech enhancement based on an intelligent signal detection system identifies and automatically emphasizes speech signals independently in each of the 16 channels. Choice of settings: Off, Moderate, Maximum
AutoMic automatically switches between omni directional and fixed directional based on the sound level in the listening environment.
Adaptive beamformer manages noise from any direction, even if it is in motion, for improved speech intelligibility
Realtime feedback canceller reacts within milliseconds using independent narrow band detectors to provide precise and adaptive feedback cancellation
Intelligent noise reduction analyzes inputs on three dimensions and automatically reduces noise signals independently in each of the 16 channels. Choice of settings: Off, Mild, Moderate, Maximum
Wind noise manager intuitively engages based on moderate or high wind conditions providing more enjoyment in outdoor pursuits
16 channels provide high resolution signal processing
Dynamic range mapping functions independently across all 16 channels to allow accurate mapping of a wide range of input levels (quiet mode expansion, linear, wide dynamic range compression, output compression limiting)
Up to three programs allowing customization for different listening environments
Wearers choose program through program button; audible beep confirms selection
Ideal volume indicator provides beep notification when correct gain is reached on the volume control
Manual volume control can be disabled through UnifitTM
Start up mute
Low battery warning
Conversa.NT can be programmed using NOAH-compatible Unifit software or standalone Unifit
Schedule a Free,
No-Obligation

Hearing Test and Consultation*
*Ontario residents only. See our testing policy here.
Schedule Consultation Form
"*" indicates required fields