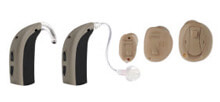 Manufacturer: Sonic
Website: http://www.sonici.com
Styles: Behind the Ear (BTE), In the Ear (ITE), Completely-In-Canal (CIC), In-The-Canal (ITC)
Pep is modern and stylish hearing instrument which is discreet and easy to use, ideal for first-time hearing aid users with basic hearing needs. Featuring the latest digital technologies aimed at improving overall hearing and comfort, Pep is designed to fit any lifestyle.
Pep includes a Behind-The-Ear (BTE) model with easy push-button operation and discreet Canal styles which are barely noticeable, all coming in a variety of colours to blend in with the listener's skin tone and hair.
Schedule a Free,
No-Obligation

Hearing Test and Consultation*
*Ontario residents only. See our testing policy here.
Schedule Consultation Form
"*" indicates required fields