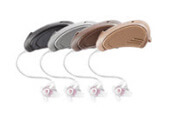 Flip is discreet and compact in size, all while being easy to use. Despite its size, Flip delivers all the features you would expect from a quality hearing aid – Speech Variable Processing technology, noise reduction and feedback isolation all make conversations more concise and understandable.
Flip connects to everyday digital devices including cell phones, landlines, PCs, television and digital music, and features an easy-to-use push button and accessible volume control. Flip comes in four colours to blend in with hair and skin tone.
Schedule a Free,
No-Obligation

Hearing Test and Consultation*
*Ontario residents only. See our testing policy here.
Schedule Consultation Form
"*" indicates required fields