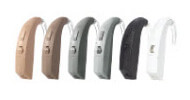 Endura is a powerful BTE hearing instrument which delivers high level output and outstanding sound quality by providing amplification across all frequencies. Sophisticated directionality and feedback control allow Endura to process the most natural sounds possible.
Endura is available in 6 different colors to create the wearer's desired look. The memory switch and battery door are designed for easy accessibility and use. Endura also features Direct Audio Input (DAI), making connections to a wireless FM receiver or MP3 player simple.
Schedule a Free,
No-Obligation

Hearing Test and Consultation*
*Ontario residents only. See our testing policy here.
Schedule Consultation Form
"*" indicates required fields