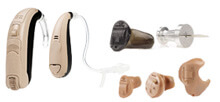 Manufacturer: Sonic
Website: http://www.sonici.com
Styles: Behind the Ear (BTE), In the Ear (ITE), Receiver in Canal (RIC), Completely-In-Canal (CIC), In-The-Canal (ITC), Invisible-In-The-Canal (IIC)
Charm is a simple, straightforward hearing instrument with just the right number of features to provide a rich, natural sound quality. Along with Sonic technologies that make sounds clear, and Speech Variable Processing which maintains the subtle soft and loud sounds in words, Charm is also compatible with Bluetooth® technology, allowing the listener to connect wirelessly with every day devices.
Charm is available in a variety of styles to suit a range of hearing needs.
Schedule a Free,
No-Obligation

Hearing Test and Consultation*
*Ontario residents only. See our testing policy here.
Schedule Consultation Form
"*" indicates required fields