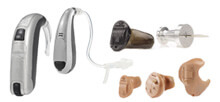 Manufacturer: Sonic
Website: http://www.sonici.com
Styles: Behind the Ear (BTE), In the Ear (ITE), Receiver in Canal (RIC), Completely-In-Canal (CIC), In-The-Canal (ITC), Invisible-In-The-Canal (IIC)
Bliss was designed with features and technology to produce outstanding natural sound, allowing listeners to focus on conversations. Bliss uses Speech Variable Processing Technology which provides a rich quality to everyday sounds, making people comfortable to enjoy their surroundings.
Designed to help improve the listener's ability to understand speech, Bliss provides hands-free operation in most cases, and comes in a variety of stylish options to suit various hearing needs.
Schedule a Free,
No-Obligation

Hearing Test and Consultation*
*Ontario residents only. See our testing policy here.
Schedule Consultation Form
"*" indicates required fields