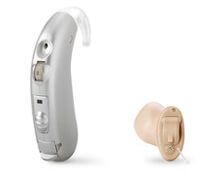 The Nitro's sophisticated technology offers you great versatility, helping you enjoy and understand conversations with the utmost ease. It even allows you effortless and wireless connectivity to your favorite audio devices. Best of all, this comfort starts with your first fit and accompanies you on your daily use.

The Nitro BTE (Behind-The-Ear) and custom In-The-Ear instruments provide a complete range of options for a variety of hearing requirements:
Powerful feedback cancellation, with FeedbackStopper
Wireless connectivity, available for Nitro BTE instruments
SoundBalance SP (with TekTM only)
Automatic adaptation to the listening environment
Advanced wind noise reduction
Sophisticated digital noise reduction
SoundLearningTM 2.0
Schedule a Free,
No-Obligation

Hearing Test and Consultation*
*Ontario residents only. See our testing policy here.
Schedule Consultation Form
"*" indicates required fields