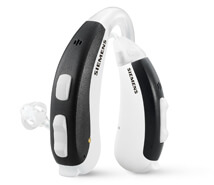 Motion BTE (Behind-The-Ear) is small and ergonomically shaped so it sits comfortably behind your ears, yet robust so it requires little care.

It also comes with the most advanced hearing technology from Siemens that automatically focuses on the voices you love to hear.
Convenient rechargeable batteries (Motion P)
Exchangeable colors for greater individuality
Features revolutionary BestSound Technology from Siemens
Offers connectivity with the Tek and miniTek wireless enhancement systems
Schedule a Free,
No-Obligation

Hearing Test and Consultation*
*Ontario residents only. See our testing policy here.
Schedule Consultation Form
"*" indicates required fields