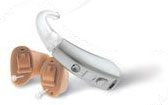 Manufacturer: Siemens
Website: http://www.hearing.siemens.com
Styles: Behind the Ear (BTE), In the Ear (ITE), Completely-In-Canal (CIC), In-The-Canal (ITC), Half-Shell (HS)
Intuis is an extremely comfortable hearing solution inside and out. The proven and innovative designs seen throughout the product line make it extremely easy-to wear. Sleek, ergonomic BTE housings are tailored to the natural shape of the ear for comfortable, everyday use.
For those who prefer an open ear BTE, Intuis Life utilizes ultra-thin, soft, non-occluding LifeTips, for maximum cosmetic appeal and convenience.
Intuis offers directional microphone systems in most every model. All Intuis models include feedback cancellation as a standard feature. Siemens has integrated recent advancements in noise reduction technology to make Intuis more comfortable to wear in noisy situations.
Schedule a Free,
No-Obligation

Hearing Test and Consultation*
*Ontario residents only. See our testing policy here.
Schedule Consultation Form
"*" indicates required fields