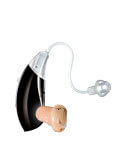 At the core of ReSound Live hearing aids is the exclusive surround sound processing platform. Just like a surround sound speaker system, it processes bass and treble separately, providing a rich, smoothly-blended listening experience. Live features:
Fantastic sound quality
Clearer understanding of speech and conversation in noisy situations
Improved awareness of surroundings
Enhanced ability to locate sounds
Multiple options available for manual control in specific performance situations
Exclusive receiver-in-ear BTE hearing aids provide full control in compact, energy-efficient size
176 hours (size 312 battery) to 330 hours (size 13 battery) of battery life
BTE hearing aid models available: receiver-in-ear (RIE), mini, standard, power
Schedule a Free,
No-Obligation

Hearing Test and Consultation*
*Ontario residents only. See our testing policy here.
Schedule Consultation Form
"*" indicates required fields