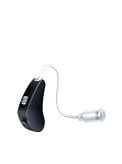 dot2 by ReSound are tiny hearing aids. Their sleek design hides behind your ears so nobody else will see it. Weighing almost the same as a paper clip, it's so lightweight you won't feel it. dot2 features:
Fantastic sound quality
Clearer understanding of speech and conversation in noisy situations
Improved awareness of surroundings
Enhanced ability to locate sounds
Smallest, most discreet behind-the-ear hearing aids available
Can be adjusted through three power levels to accommodate significant changes in your hearing needs
100 hours of battery life (size 10a battery)
Models available: low, normal and high power
Schedule a Free,
No-Obligation

Hearing Test and Consultation*
*Ontario residents only. See our testing policy here.
Schedule Consultation Form
"*" indicates required fields