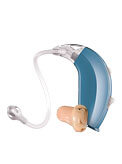 Azure is suitable for people with mild to profound hearing loss. It offers:
Program button and volume control allowing for easy adjustment to any listening situation
Open fit for elimination of occlusion (plugged-up feeling) and maximized comfort
Can be fitted "off the shelf"
330 hours of battery life (size 13 battery)
Three behind-the-ear (BTE) and five custom in-the-ear variants – all suitable for demanding listening environments
Schedule a Free,
No-Obligation

Hearing Test and Consultation*
*Ontario residents only. See our testing policy here.
Schedule Consultation Form
"*" indicates required fields