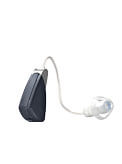 Manufacturer: ReSound
Website: http://www.gnresound.ca
Styles: Behind the Ear (BTE), In the Ear (ITE), Receiver-in-the-Ear (RITE)
ReSound Alera hearing aids give you an exceptional surround sound experience along with strong and clear wireless connections to your TV, stereo, computer and mobile phone. With ReSound Alera you will get:
An exceptionally rich sound quality
The ability to understand speech better, even when there is noise in the background
Ability to keep a sense of what's going on around you
The ability to locate where sounds are coming from
No whistling or buzzing on the phone or when you hug someone
Music that sounds as clear and pure as it's supposed to
Ability to connect wirelessly to your mobile phone, TV, stereo and computer using our ReSound Unite accessories
Nano coated – moisture protection for extreme durability
Schedule a Free,
No-Obligation

Hearing Test and Consultation*
*Ontario residents only. See our testing policy here.
Schedule Consultation Form
"*" indicates required fields