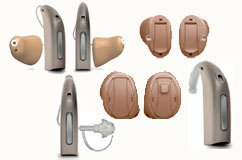 Manufacturer: Oticon
Website: http://www.oticon.ca
Styles: Behind the Ear (BTE), In the Ear (ITE), Receiver-in-the-Ear (RITE), Completely-In-Canal (CIC), In-The-Canal (ITC)
Vigo offers you a wide choice of discreet styles. Whether you choose a Vigo that fits snugly inside your ear, or discreetly behind it, you'll feel more confident in how you interact and communicate with others. Vigo has the rare combination of both discreet size and amazing performance. The focus will be entirely on you, not your hearing.
A unique feature called DecisionMaker2 ensures sound is perfect wherever you go by continuously and automatically adjusting the settings in Vigo to fit the actual listening situations. These adjustments are then noted for better continual automatic performance.
It is available in a choice of very discreet models and a wide choice of colours to match every hair colour and skin tone, and are small thin and virtually invisible.
Schedule a Free,
No-Obligation

Hearing Test and Consultation*
*Ontario residents only. See our testing policy here.
Schedule Consultation Form
"*" indicates required fields