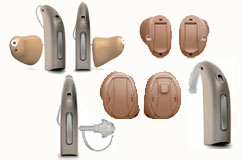 Manufacturer: Oticon
Website: http://www.oticon.ca
Styles: Behind the Ear (BTE), In the Ear (ITE), Completely-In-Canal (CIC), In-The-Canal (ITC)
Vigo Connect makes speech stand out from background noises and gives you the most comfortable sound in any environment, so you enjoy the moment. Vigo Connect uniquely combines powerful performance with discreetness.
It is so small, light and easy to use that you hardly notice you are wearing it. Choose the colour and style you want. Whether you select a style that fits snugly inside your ear, or discreetly behind it, you will feel more confident when communicating and interacting with others.
Schedule a Free,
No-Obligation

Hearing Test and Consultation*
*Ontario residents only. See our testing policy here.
Schedule Consultation Form
"*" indicates required fields