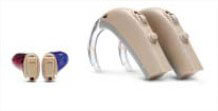 Manufacturer: Oticon
Website: http://www.oticon.ca
Styles: Behind the Ear (BTE), In the Ear (ITE), Completely-In-Canal (CIC), In-The-Canal (ITC)
Tego is so cleverly designed that all you'll have to do to hear considerably better is to put it on and change the batteries when Tego tells you to.
Tego contains an array of advanced sound processing technologies, all of which are intelligently controlled by a unique system known as DecisionMaker. With Tego, you will feel more confident, more active and more energetic.
Schedule a Free,
No-Obligation

Hearing Test and Consultation*
*Ontario residents only. See our testing policy here.
Schedule Consultation Form
"*" indicates required fields