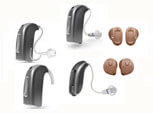 Manufacturer: Oticon
Website: http://www.oticon.ca
Styles: Behind the Ear (BTE), In the Ear (ITE), Receiver-in-the-Ear (RITE), Completely-In-Canal (CIC)
Oticon Ino offers amazingly detailed sound quality. Speech comes through clearly, so conversing becomes less strenuous. Noisy sounds are kept well under control to keep you feeling comfortable. And whistling sounds are minimised so you and your companions can relax.
With a full line of in-the-ear and behind-the-ear styles to choose your hearing care professional should be able to find precisely the style that suits your hearing needs and personal taste, so you can feel confident all day long. Oticon ConnectLine solution can help you hear better in more situations than ever.
Whether it's your TV, mobile phone or MP3 player, all you have to do is touch a button on the Streamer to enjoy clear and comfortable sound quality.
Schedule a Free,
No-Obligation

Hearing Test and Consultation*
*Ontario residents only. See our testing policy here.
Schedule Consultation Form
"*" indicates required fields