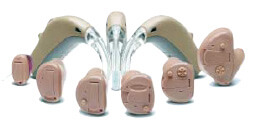 GO is a hearing aid solution that gives you all the benefits of modern digital hearing care at a more affordable price. GO is fully automatic and provides clear digital sound quality. The attractive GO instruments feature an ergonomic design that makes it easy to use. You can depend on GO to provide reliable performance day in and day out.
GO Pro offers you clear digital sound quality, excellent reliability and optimum listening and wearing comfort. GO Pro provides a wide selection of different instrument styles and options to match your unique needs. They are cosmetically attractive and easy to use solutions for your hearing loss. With its virtually invisible sound tube, it is one of the most advanced hearing instruments in its price category.
GO offers a range of small In the Ear (ITE) hearing instruments and attractive Behind the Ear (BTE) solutions. The latter are available in a choice of hair- and skin tone colours, and options such as volume control and telecoil.
Schedule a Free,
No-Obligation

Hearing Test and Consultation*
*Ontario residents only. See our testing policy here.
Schedule Consultation Form
"*" indicates required fields