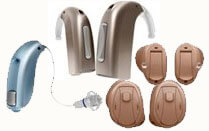 Manufacturer: Oticon
Website: http://www.oticon.ca
Styles: Behind the Ear (BTE), In the Ear (ITE), Receiver-in-the-Ear (RITE), Completely-In-Canal (CIC), In-The-Canal (ITC)
Oticon Agil Pro helps you intuitively make sense of your surroundings and focus on what you choose by supporting your natural ability to organise sounds.

Spatial Sound 2.0 helps you organise sounds, know where they come from and make sense of your surroundings. You will also be able to select the person or sound source you want to listen to, and ignore those you do not.

Speech Guard dramatically improves your ability to follow conversations in complex environments.

Oticon ConnectLine delivers sound directly to your ears from your TV, landline and mobile phones, and audio devices like music players and personal computers. This is possible due to the wireless features.
Schedule a Free,
No-Obligation

Hearing Test and Consultation*
*Ontario residents only. See our testing policy here.
Schedule Consultation Form
"*" indicates required fields