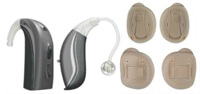 Manufacturer: Bernafon
Website: http://www.bernafon.ca
Styles: Behind the Ear (BTE), Completely-In-Canal (CIC), In-The-Canal (ITC)
A full family of affordable hearing instruments, Inizia is the perfect choice to fulfill hearing needs both in noisy and in quiet environments; ChannelFreeTM digital signal processing provides distinguishable speech intelligibility.

Technical Features:
Bernafon ChannelFreeTM signal processing
8 kHz frequency bandwidth
Fixed or omni directionality
Adaptive Noise Reduction in 4 bands with 2 control states
Adaptive Feedback Canceller
Multi-environment program
Advanced Soft Noise Management with 2 controls
Personalization Features:
Lifestyle Profile
Multiple listening program options
Up to 3 program memories
Attractive design with a variety of colors and styles
Optional DAI / FM adapter
The Inizia family includes the Inizia 1 and Inizia 3.
Schedule a Free,
No-Obligation

Hearing Test and Consultation*
*Ontario residents only. See our testing policy here.
Schedule Consultation Form
"*" indicates required fields