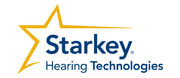 Starkey is a world leader in the development and design of hearing solutions. Starkey uses superior hearing technology to connection people to the sound of the world around them. Starkey operates 22 facilities in over than 18 countries worldwide, and is an industry leader in hearing instrument development, manufacturing and distribution. Starkey is proud to create top quality diagnostic equipment, hearing protection products, wireless technology and unique hearing solutions to meet different hearing needs.
The following are some Starkey Hearing Aids which Hearing Institute of Ontario offers:
Schedule a Free,
No-Obligation

Hearing Test and Consultation*
*Ontario residents only. See our testing policy here.
Schedule Consultation Form
"*" indicates required fields