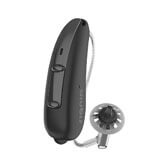 Pure 312 AX give you state-of-the-art Bluetooth connectivity for Android2 and iOS devices. So you can easily stream your phone calls, music and TV audio straight to your tiny hearing aids in high-quality digital sound. You can also connect your Pure 312 AX to the Signia app, which features groundbreaking artificial intelligence (AI) via the Signia Assistant.
Pure 312 AX Pure AX hearing aids are packed with all the high-tech features you need, such as Bluetooth streaming for your phone calls and music from both Android3 and iOS devices as well as advanced tinnitus therapies to make your life with tinnitus more comfortable.
Schedule a Free,
No-Obligation

Hearing Test and Consultation*
*Ontario residents only. See our testing policy here.
Schedule Consultation Form
"*" indicates required fields