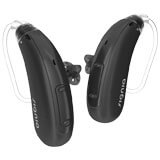 Comparable in its small size to a 312- device, the new Motion Charge&Go X is the ultimate BTE combining sleek design with rechargeability, Bluetooth, and the Signia Assistant. It is flexible to fit, easy to use and comfortable to wear, making this an easy choice for those looking for convenience and robustness – all in one.
Schedule a Free,
No-Obligation

Hearing Test and Consultation*
*Ontario residents only. See our testing policy here.
Schedule Consultation Form
"*" indicates required fields