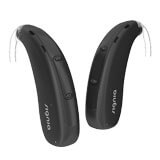 This is the world's first rechargeable Super Power BTE. Closing the gap between Super Power and super features, the innovative Motion Charge&Go SP X ultra-power device is the complete package for those who want to Be Brilliant despite severe to profound hearing loss. With Bluetooth connectivity, Li-ion rechargeability and telecoil, it offers a world of new hearing and handling possibilities not familiar to those with conventional SP devices.
Schedule a Free,
No-Obligation

Hearing Test and Consultation*
*Ontario residents only. See our testing policy here.
Schedule Consultation Form
"*" indicates required fields