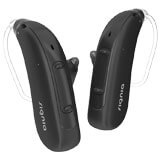 Smaller than its predecessor without compromising on power, the new Motion Charge&Go P X combines all the latest Signia Xperience hearing technology with the complete convenience of Li-ion recharging, making annoying battery changes a thing of the past. This powerful hearing solution for every situation with telecoil ensures that whatever you spend your day doing, you will be able to perform at your best.
Schedule a Free,
No-Obligation

Hearing Test and Consultation*
*Ontario residents only. See our testing policy here.
Schedule Consultation Form
"*" indicates required fields