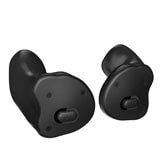 Insio Charge&Go AX also give you state-of-the-art Bluetooth connectivity for Android4 and iOS devices. So you can easily stream your phone calls, music and TV audio straight to your custom hearing aids in high-quality digital sound. You can also connect your hearing aids to the Signia app, which features groundbreaking artificial intelligence (AI) via the Signia Assistant.
Insio AX ITE and ITC models are tailored to the individual shape of your ear canal to sit discreetly inside your ear.
Schedule a Free,
No-Obligation

Hearing Test and Consultation*
*Ontario residents only. See our testing policy here.
Schedule Consultation Form
"*" indicates required fields