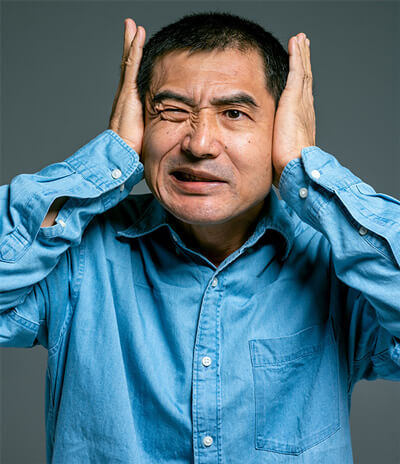 Many people suffer from tinnitus, or ringing in the ears.  Currently, there is no cure for tinnitus; however, you may be able to manage your tinnitus by wearing hearing aids.  Hearing aids can manage your tinnitus by:
Auditory stimulation – Tinnitus can become more noticeable when hearing loss is present since your ears receive less input from the world around you. With hearing aids, you can hear more sounds like the hum of a computer, footsteps, and other sounds that will help make your tinnitus much less noticeable.
Reduces strain – It can be very straining to live with tinnitus, especially as moderate-to-severe tinnitus can drown out sounds you want to hear. By using hearing aids regularly, you can reduce the strain of listening around your tinnitus.
Act as a masker – Some hearing aids also have the ability to act as a sound generator, masking the sound your tinnitus makes. With a more pleasant sound in the background, like water flowing in a river, you can more easily ignore and forget your tinnitus.
Improves communication – Tinnitus can make speech, whether your ability to hear or your capacity to speak, difficult. With hearing aids, you can cut through the noise of your tinnitus to hear what others are saying and in return, reply appropriately.  
At the Hearing Institute of Ontario we can find the right type of hearing aid for you that can help you manage your tinnitus.   Please contact us to find out how.