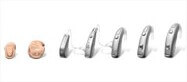 Manufacturer: Beltone
Website: http://www.beltone.com
Styles: Behind the Ear (BTE), In the Ear (ITE), Receiver-in-the-Ear (RITE)
Beltone Reach is available in a friendly and discreet design. The models are smaller than you would expect and have a curvy shape to ensure you the highest comfort. Beltone Reach models are remarkably slim and light, so they will not push out your ear and they can easily be worn with glasses.

Choose between three types of Beltone Reach hearing aids:

Receiver-in-ear (RITE)
This model is one of the smallest on the market and can be fitted for you regardless of the nature of your hearing loss. With the receiver placed in the ear canal and an extremely thin tube connecting the small component behind the ear, it's practically invisible.

Behind-the-ear (BTE)
This new design makes the hearing aid significantly smaller than what you would expect for this traditional type of instrument. A comfortable fit that's barely noticeable.

Custom-made in-the-ear (ITE)
If you prefer to have your hearing aid placed in the ear, Beltone Reach has an extensive offering that will match your hearing loss with a variety of features to fit your specific needs.
Schedule a
No-Cost

,

No-Obligation

Consultation*
*Ontario residents only. See our testing policy here.
Schedule Consultation Form
"*" indicates required fields