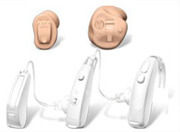 Manufacturer: Beltone
Website: http://www.beltone.com
Styles: Behind the Ear (BTE), In the Ear (ITE), Receiver-in-the-Ear (RITE)
Most Beltone Identity models are significantly smaller than comparable hearing aids and we offer a full lineup. On top of that, the models are available in a wide choice of colours. So you won't just like the way your Beltone Identity feels – you'll like the way it looks too.
Beltone Identity focuses on letting words come through clearly and understandably and will always keep the loudness just right. Advanced automatic features and longer-than-ever battery life help you to relax and focus on being yourself. Beltone Identity will learn your preferred loudness settings and will remember them so you don't have to adjust the volume all the time. Having a battery life that lasts longer than most gives you longer wearing time and greater peace of mind.
Beltone Identity minimizes unwanted noise that can otherwise make you feel tired and worn out by the end of the day. Wind noise is reduced so you can enjoy being outside, embarrassing whistling tones are shut out and distracting background noise is eliminated so you can focus on speech.
Schedule a
No-Cost

,

No-Obligation

Consultation*
*Ontario residents only. See our testing policy here.
Schedule Consultation Form
"*" indicates required fields