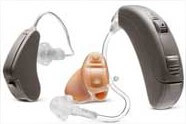 Manufacturer: Beltone
Website: http://www.beltone.com
Styles: Behind the Ear (BTE), Receiver-in-the-Ear (RITE), Completely-In-Canal (CIC)
Beltone Change offers a wide variety of hearing aid models and a choice of colors, so you can choose the one that makes you feel the most comfortable and confident.

Hear the speech and sounds you want
Beltone Change lets you focus on speech while irrelevant background noise is reduced – so every word is clear. It also reduces embarrassing whistling. The exact level of sound amplification you need is adjusted over time to meet your personal preferences.

Hear better wherever you go
Your listening environments change as you move around during the day, so your hearing aids should too. Whether you're speaking quietly to someone, watching TV, at a party or on the phone, Beltone Change has the program or feature that fits the environment.

Get more control and more freedom
Beltone Change comes with the option of an easy-to-use analog volume control for you to set as you please. You also get all the benefits of a battery life that is up to 40% longer than comparable hearing aids.

Make the change from analog to digital hearing easy
The sound in an analog – or linear – hearing aid is different than that in a digital hearing aid. This requires adjustment. A unique feature in Beltone Change makes it possible for you to make a comfortable, easy and, not least, gradual change from analog to digital hearing. We call it Automatic Compression Adaptation.
Schedule a
No-Cost

,

No-Obligation

Consultation*
*Ontario residents only. See our testing policy here.
Schedule Consultation Form
"*" indicates required fields